"The English Cocker Spaniel is an active, merry sporting dog, standing well up at the withers and compactly built. He is alive with energy; his gait is powerful and frictionless, capable both of covering ground effortlessly and penetrating dense cover to flush and retrieve game. His enthusiasm in the field and the incessant action of his tail while at work indicate how much he enjoys the hunting for which he was bred. His head is especially characteristic. He is, above all, a dog of balance, both standing and moving, without exaggeration in any part, the whole worth more than the sum of its parts. "
From the AKC Breed Standard
Millermead English Cockers are at home in Northwest Wisconsin approximately one hour from the Twin Cities of Minneapolis and St. Paul, Minnesota. Although bred as show dogs, our dogs are perfectly at home as a beloved family pet. Most English Cockers fall in the color pattern of blue roan - kind of a salt and pepper marking of shades of black and white. There are also orange roans, liver roans and open marked dogs in patterns of black and white, orange and white and liver and white some with tan markings as well. We do not breed any solid colored dogs.
Our dogs have all the health clearances suggested by our national club, the English Cocker Spaniel Club of America including OFA certification for hips, Baer testing for hearing, Optigen testing for PRA and Optigen testing for FN. All dogs are registered with the AKC however, most puppies are sold with limited registration papers meaning they are not being sold as future breeding dogs.
We rarely have puppies more than once a year. Occasionally we will have a younger adult available for placement. Please contact us for information on future litters at millermead@centurytel.net or call 715-755-3042.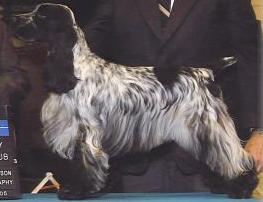 Puppies Due summer 2010 from a breeding of
CH Ashbrook Dark Roast (Dunkin)
and
Irish Eyes Fireworks at Millermead (Blossom)
"Rudy" CH Ashbrook Man of the Year
Our first champion, best bed buddy,
wonderful father and true goofball.